It's All About Engagement
Engaging the population – this is one of the most crucial aspects in a wellness program, and one we get asked about all the time. Organizations want to know how to define engagement and how to design meaningful measures of it.
First, engagement is NOT simple participation. While standard participation metrics are important, like the percent of the population who completed a health screening or HRA, these numbers aren't a great reflection of how engaged your people are. The standard definition of participation is "to take part in an activity," which is essentially the same as "showing up", usually for a one-time event.
By contrast, engagement is "an emotional involvement or commitment." They key word is commitment, which derives from an internal desire to get involved, stick to something, and make progress. In the context of a wellness program, engagement means demonstrating a commitment toward health improvement.
Demonstrating Commitment
Not surprisingly, there are many ways for participants to demonstrate engagement and commitment toward better health. The "one size fits all" approach does not work because every company has somewhat different goals. Nevertheless, there is a definite foundation to start with and build upon. Here is one example of how a client could define three different levels engagement, based on its specific program components.
As you can see, the metrics are common sense – when your wellness program is already designed to promote progress and has many opportunities for a person to take the next action step, it is a straightforward process to see how engaged the population is. The above metrics can be expanded or modified based on your organization's unique goals and services offered.
For example, you may want someone who went to a screening, and whose blood pressure was above a certain number, to take the next step and call a health coach. The coach, in turn, would encourage that person to take another concrete step. Each point in the pathway is easy to measure.
Engagement, therefore, is not an all-or-none proposition. We should view engagement as a process with the goal of having as many individuals as possible heavily engaged.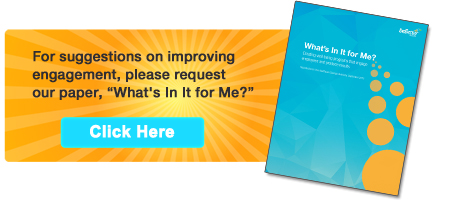 It is no surprise that in many organizations, health screenings, flu shots and HRA's have the highest participation rates simply because these activities received the largest financial incentive, are heavily marketed, and require a single action.
Aim for greater than 50% participation in the initial assessment (HRA and screening) because they provide the data for both personal and programmatic health management. As the saying goes, "If it isn't measured, it isn't managed." This data drives future programming and evaluation.
Following high participation in the beginning program activities, however, the focus should shift toward achieving high engagement throughout the year.
How does your program compare? Are you putting your marketing and communications efforts toward the right activities? Your beBetter Account Manager has additional information and support to help drive program improvements.