Quitting is hard. But the truth is that most smokers want to quit, and many have tried in the past. breatheBetter™ is a self-guided program that arms your employees with the plan, tools, and techniques needed to give them the best chance of success.
The breatheBetter™ program is based on our patented quit-smoking techniques with over 2 million user experiences and more than 12 years of tobacco QuitLine coaching experience. breathBetter™ combines our deep experience with the most up-to-date web technology and user application interfaces to help employees kick the habit for good.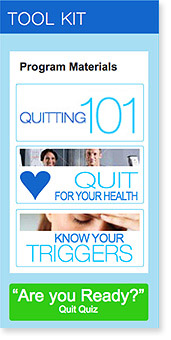 Features
Tailored, self-paced program
Complete integration with online portal and incentive management
Virtual coach
Quit Guide & education materials
Program Manager's Guide
Surveys/Outcomes measurement
Promotional materials
Options
Discounted patches, gum, lozenges
Integrated beBetter health coaching
Three simple steps, customized for each participant
The program starts with a short survey that helps us build a customized experience for each user. Based on the survey, the program's content is tailored to the individual user's smoking history, personal habits and environment. There are 3 simple steps: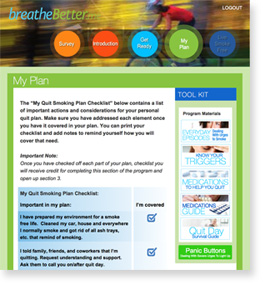 Get Yourself Ready
Create a Quit Plan
Live Smoke Free
Unlike some programs that force an arbitrary quitting timeline onto participants, the breatheBetter™ program is self-paced.  Each step in the program provides the information and tools needed to progress to successful quitting.
A built-in evaluation component surveys participants at the end of the program … and at 6 and 12 months post-program to see how they are doing.
Our original program, SmokeStoppers®, uses a patented methodology to help people quit smoking. That program has been used by over 2 million people. breathBetter™ combines this industry-leading experience with our extensive QuitLine coaching experience to create the most up-to-date web program available.
A Quit Program That's Like a Breath of Fresh Air!