beBetter® Integrates FitLinxx Automated Activity Monitoring into Its Wellness Platform
Benefits Professionals Can Easily Connect Employee Physical Activity to Incentive and Benefit Designs
Chicago, IL – September 10, 2012 – beBetter Health, Inc., a corporate wellness company providing comprehensive wellness solutions to employers, benefits brokers and consultants, announces that the beBetter® System now has built-in integration with FitLinxx activity monitoring devices for businesses.
The beBetter® System is a wellness platform that gives employees personalized wellness goals and delivers built-in employee wellness programs that promote exercise, nutrition, and weight management. Now, employees just clip the FitLinxx devices on their shoe or belt, and activity data will automatically and wirelessly transmit into the beBetter System, showing their progress toward physical activity goals.
"This integration makes it a lot easier for employees to participate in wellness," said Ralph Gaines, CEO of beBetter Health. "Benefits professionals and brokers can design a variety of programs that reward employees for literally taking active steps to a healthy lifestyle. Incentives based on steps, distance, time, or calories can be easily tied to premium reductions, HSA contributions or other incentive structures."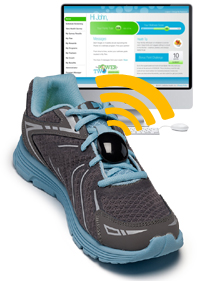 A key value of the FitLinxx devices is that they make data collection easy and automatic. "The employees don't have to manually track how much exercise they're getting," says Dave Monahan, President and CEO of FitLinxx. "This makes it much easier for them to participate. We're trying to eliminate the barriers that typically get in the way of collecting the reliable data you need to reward your employees. The devices provide accurate, objective data for goal progress, incentive rewards, and program evaluation."
About beBetter Health, Inc.
beBetter is a corporate wellness company focused on making it easy for employers and their benefits consultants to deploy and manage effective wellness strategies. The beBetter® System provides a fresh, engaging approach to empowering employees and supports the entire spectrum of incentive and benefits designs. We connect all the programs, content, applications and reporting in an integrated, easily deployed system at a fantastic price. Learn more about beBetter and our 25+ years of experience in population health management at www.bebetter.com. Interested investors may contact us at investors@bebetter.net.
About FitLinxx (www.FitLinxx.com)
FitLinxx develops innovative health and wellness technology that motivates people to live actively and improve their well-being. Sold exclusively through partners to businesses, its wireless activity monitors, health devices and software make it easy for people to accurately track and measure daily activity levels and health indicators like weight and blood pressure. Using FitLinxx technology, the company's global partners have created customized fun and engaging programs that help people begin and maintain active and healthy lifestyles. Employers benefit by lowering their healthcare costs, increasing worker productivity and improving overall employee health. The company's network of fitness facilities and more than 50 partners has helped more than four million people experience the benefits of FitLinxx offerings.