Understanding Results-Based Wellness Incentives
beBetter White Paper Helps Benefits Professionals Tie Health Premiums to Wellness Outcomes
Chicago, IL – October 24, 2012 – beBetter Health, Inc., a corporate wellness company dedicated to engaging employees in their health, has released a new white paper to help benefits professionals understand best practices and legal considerations when tying the cost of health plans to employee health status.
Today's benefits professionals are continually challenged to find new strategies to control rising healthcare costs. Results-based benefits cost differentials represent a promising approach for sponsors of worksite wellness programs who want to improve employee health and bend their benefits cost trend. Such programs have growing regulatory support and provide a logical way to promote greater awareness about the connection between an employee's health status and the true cost of care.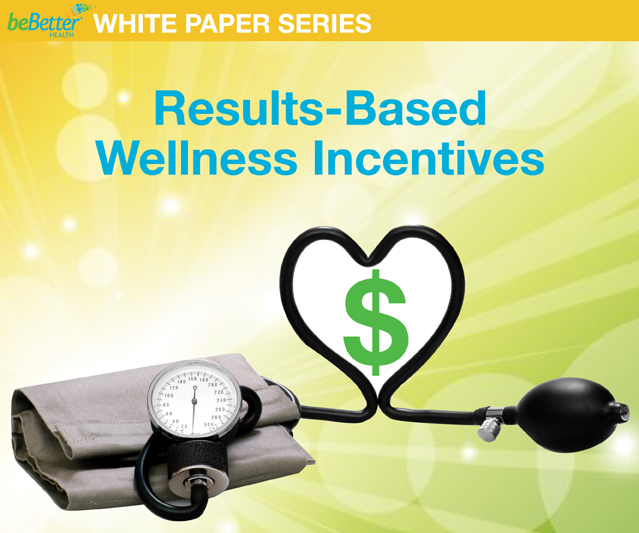 In order to be successful implementing such programs, benefits professionals need a keen understanding of the market and healthcare legislation, as well as a well-designed and executed wellness program.
Topics covered in the paper:
Why the Results-Based Approach Makes Sense
Best Practices when Implementing a Results-Based Approach
How to Deliver the Right Message to Employees
Compliance and Legal Consideration, including a summary of five key criteria spelled out by the U.S. Department of Labor (DOL)
To download a copy of this complimentary white paper go to www.bebetter.com/wp_registration.
About beBetter Health, Inc.
beBetter is a corporate wellness company focused on making it easy for employers and their benefits consultants to deploy and manage effective wellness strategies. The beBetter® System provides a fresh, engaging approach to empowering employees and supports the entire spectrum of incentive and benefits designs. We connect all the programs, content, applications and reporting in an integrated, easily deployed system at a fantastic price. Learn more about beBetter and our 25+ years of experience in population health management at www.bebetter.com. Interested investors may contact us at investors@bebetter.net.