beBetter Launches Powerful Quit Smoking Program for Employers
Integrates with Wellness Portal, Coaching, and NRT Store; Supports Premium Differentials
Chicago, IL – November 7, 2012 – beBetter Health, Inc., a provider of integrated corporate wellness solutions, announces the launch of breatheBetter, a new smoking cessation program that uses the latest advances to help employees quit smoking.
breatheBetter™ is an online smoking cessation program that draws from beBetter's patented quit-smoking techniques and more than 12 years of tobacco QuitLine coaching experience. Participants receive a tailored quit smoking plan, continual support via a virtual health coach, optional live coaching, and discounted nicotine replacement therapies (NRT).
The breatheBetter program can be delivered to employees as a stand-alone program or integrated with the full beBetter® System, a wellness portal with programs, goal setting, and incentive management. Employers can elect to reward employees for program participation or successful quitting, and tie these milestones to reductions in the employee's health plan costs.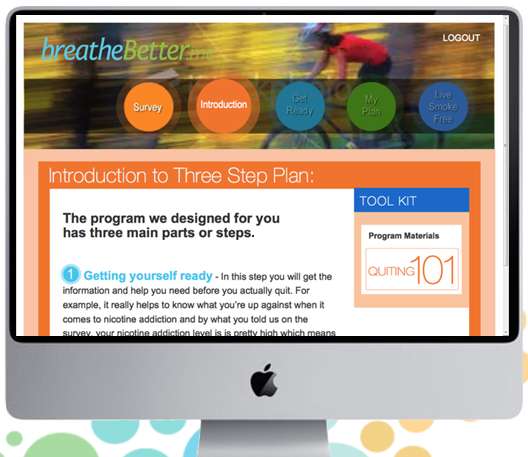 beBetter has been an industry leader in the field of employee wellness and tobacco cessation for over 25 years, and its proven coaching techniques have resulted in some of the best 12-month quit rates in the nation. breathBetter™ leverages deep experience with the most up-to-date web technology to help employees kick the habit for good. Each step in the program provides the information and tools needed to progress to successful quitting.
"The truth is that most smokers want to quit," said Gary Sams, beBetter's Chief Wellness Officer,  "And many have tried to quit in the past. breatheBetter arms your employees with the plan, tools, and techniques needed to give them the best chance of success."
For the employer, the breatheBetter program provides smoking policies, marketing materials, built-in evaluation surveys, and a reporting package.
Watch Archived Webcast: 
The New Smoking Cessation Imperative 
with beBetter Chief Wellness Officer Gary Sams
To watch this presentation, click here
About beBetter Health, Inc.
beBetter is a corporate wellness company focused on making it easy for employers and their benefits consultants to deploy and manage effective wellness strategies. The beBetter® System provides a fresh, engaging approach to empowering employees and supports the entire spectrum of incentive and benefits designs. We connect all the programs, content, applications and reporting in an integrated, easily deployed system at a fantastic price. Learn more about beBetter and our 25+ years of experience in population health management at www.bebetter.com. Interested investors may contact us at investors@bebetter.net.