beBetter Announces Community Health Initiative, "Families Fighting Obesity," and Partnership with the Association for Child Development
Initiative and partnership will educate children about healthy eating and bring those lessons into the home
Chicago, IL – February 26, 2013 – beBetter Health, Inc., a leader in population health management and wellness, has partnered with the nonprofit organization, Association for Child Development (ACD), to promote healthy eating and portion control among children through beBetter's community health initiative, "Families Fighting Obesity."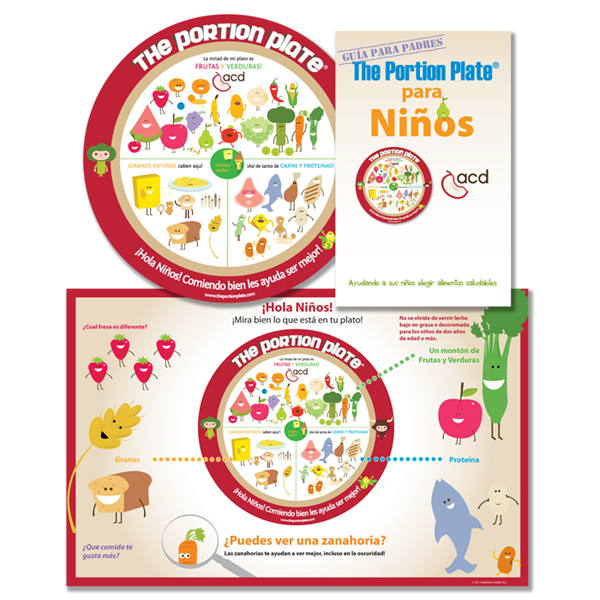 Through the initiative, beBetter seeks to empower children and families to eat better by working with organizations that give them the tools to do so. Through the partnership with ACD, approximately 4,500 kits will be distributed to childcare providers. The kits will feature customized tools that promote healthy eating, including an educational brochure, placemat, and the children's version of beBetter's Portion Plate. beBetter will offer discounts for the ACD kits and donate a percentage of all future sales of ACD's customized Portion Plate products back to ACD.
"A big part of our mission at beBetter is to help fight the obesity epidemic. We wanted to help communities tackle this problem, and specifically to partner with organizations that teach children about healthy eating and focus on bringing those lessons home," says Portion Plate product manager Ryan Cameron.
"For the past decade, we've been providing tools to help families eat smarter.  We recognize ACD as a strong partner that shares our vision of the importance of education in family nutrition and we look forward to providing support for their efforts," says beBetter's Chief Executive Officer, Ralph Gaines.
ACD has been educating parents and caregivers about nutrition to promote the development of children and establish healthy eating habits for over 35 years. With offices in Michigan and Illinois, more than 46,000 children are enrolled on the Child and Adult Care Food Program (CACFP) under ACD's sponsorship. In 2011, ACD reimbursed 20,592,865 nutritious meals and snacks served to children by Child Care Providers.
"Our children are our future and our greatest investment. ACD has the privilege of representing a special group of individuals who nurture, educate and feed our nation's youth every day," says ACD Chief Executive Director Mary Rice. 
According to the Centers for Disease Control and Prevention (CDC), the 6-9 year-old child obesity rate has more than quadrupled since 1970 and the 2-5 year-old child obesity rate has doubled. Furthermore, the average portion size is now more than four times larger than what it was in the 1950s and the average person is 26 pounds heavier.
For more information about beBetter's portion control tools, visit www.theportionplate.com. For more info on the "Families Fighting Obesity" campaign, media inquiries and interview opportunities, please contact us here.
About beBetter Health, Inc.
beBetter is a corporate wellness company focused on making it easy for employers and their benefits consultants to deploy and manage effective wellness strategies. One of the keys to employee health is helping their families eat healthy meals. The Portion Plate® and custom portion control tools are designed to help individuals remember healthy eating habits every time they sit down to eat. Portion Plates are durable, dish-washer safe and completely customizable.  The Portion Plate also abides by the USDA MyPlate guidelines. Portion Plate has been used by a half million dietitians, educators and consumers to reinforce balanced eating and a healthy diet. To see what the Portion Plate can do for you, visit www.theportionplate.com.
About the Association for Child Development:
ACD is a nonprofit organization that became a United States Department of Agriculture (USDA) sponsor of the CACFP in 1976. ACD has grown into the largest CACFP sponsorship in both Michigan and Illinois individually and is also one of the largest CACFP sponsorships in the United States. Teaching healthy eating habits has given ACD the leverage necessary to promote nutritious snack and meal choices and to encourage children to lead healthy, active lifestyles. For more information, visit www.acdkids.org.