West Virginia Tobacco QuitLine Demonstrates Continued Success
beBetter Health announces above-average quit rates
Chicago, IL – April 16, 2014 – beBetter Health and The West Virginia Tobacco QuitLine announce key findings from their latest evaluation report, which demonstrates that the state's QuitLine yields above-average quit success and continues to improve the health of the State's residents.
The West Virginia Tobacco QuitLine Annual Report of six and twelve month follow-ups (enrollees from 01/01/2012 thru 12/31/2012) shows an overall program quit rate for smokers of 33 percent. The national average of success for people quitting using a state QuitLine is considerably less at 25 percent (according to data provided by the National QuitLine Data Warehouse).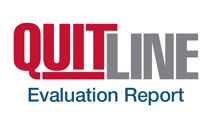 The report also revealed that the success of remaining quit was high among smokeless tobacco users (36 percent), whose addiction to nicotine is sometimes difficult to treat. Moreover, quit rates of 18-34 year old adults, a population highly-targeted by the tobacco industry, showed a 33 percent quit rate.
According to Gary Sams, Chief Wellness Officer of beBetter Health, "The West Virginia QuitLine is one of the busiest per capita in the country. Since 2000, the program has enrolled nearly 90,000 participants and has reached nearly 18 percent of the state's tobacco user population."
The QuitLine received over 26,000 informational calls in 2012, and assisted 1,627 individuals to remain quit from their tobacco use and addiction. A random sample of 2,292 enrollees were selected for post-treatment surveys to collect data on the number of tobacco quitters, quit attempts, and other reporting.
"By helping people quit their nicotine addictions, we have helped reduce the risks of serious illness in those residents," said Ralph Gaines, CEO of beBetter Health. "The risks of mouth, throat and lung cancer are all dramatically reduced, as well as the risks of stroke, emphysema, and coronary heart disease. In addition to improving their health, the QuitLine service helps prevent significant medical costs associated with tobacco use for those individuals."
The West Virginia Tobacco QuitLine began operations in 2000. It offers both smokers and spit tobacco users phone coaching and nicotine replacement therapy, such as patches, to help residents quit at little or no cost. There are also specialized programs for several 'at-risk' populations including: the uninsured, pregnant smokers and their families, spit tobacco users, active and reserve military personnel, and all young adults 18 to 34 years of age.  Services are offered through beBetter Health.
To learn more or to enroll in the program, please visit the
West Virginia QuitLine website
or call 1-877-966-8784.
About beBetter Health, Inc.
beBetter is a corporate wellness company focused on making it easy for employers and their benefits consultants to deploy and manage effective wellness strategies. The beBetter® System provides a fresh, engaging approach to empowering employees and supports the entire spectrum of incentive and benefits designs. We connect all the programs, content, applications and reporting in an integrated, easily deployed system at a fantastic price. Learn more about beBetter and our 25+ years of experience in population health management at www.bebetter.com. Interested investors may contact us at investors@bebetter.net.