Our system has built-in support for your wellness programs, helping you to easily build and sustain a culture of wellness. These include an Annual Plan, employee and management interest surveys, and a comprehensive Program Manager's Guide. To help you communicate each step of the program, we provide high-impact posters, letters, and flyers for you to use in the workplace. These materials are designed to be eye-catching, compelling, and memorable.
In addition, we can provide physical support materials to reinforce your educational goals and achieve high employee engagement. Looking for great wellness giveaways? We have a number of options that can be used as incentives and rewards for program participation and goal achievement. For a tangible reminder of how to eat healthy, we recommend our Portion Plate products. And we are one of the largest national distributors of nicotine replacement therapy, allowing us to provide deeply discounted patches and gum to help your employees quit smoking.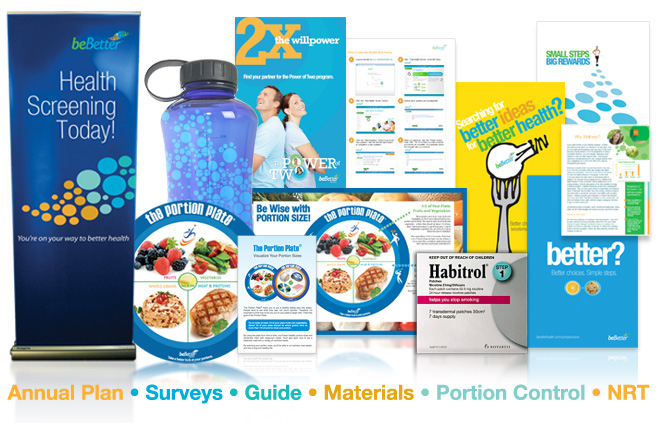 Please ask your beBetter sales representative for samples.