< Back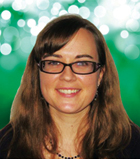 Becky Snyder
Senior Health Coach
Why Do Smokers Relapse?
As a seasoned Health Coach, Becky Synder has been helping beBetter clients overcome their smoking obstacles for the last eight years. Becky graduated as a history major, studying to become an archeologist. Not sure of her place in the world, she started working as a volunteer coordinator for a children's reading program. It was here that she realized her calling to guide others. Becky then went on to complete a graduate degree in social work and has been coaching those in need ever since.

Q: What is the average rate for relapse?

A: I would say 30-40% successfully quit, so probably somewhere around 60-70% relapse. The reason the success rate seems so low is because a lot of people have to try to quit smoking a couple of times before they quit for good.

Q: Is there a particular quality you see in the people that end up quitting?

A: Having motivation. And not letting those rough days get to them. They have to believe they can do it.

Q: How does willpower play into quitting?

A: I think we're all born with that strength or that desire to keep trying. But some people who tried to quit smoking and didn't succeed will see it as a failure, when really they should see it as a learning process and know they're going to be stronger next time. Almost anything we do requires some practice.

Q: What are the most common obstacles you see clients face in quitting smoking?

A: I would say the obstacle I think of first is their self-doubt. Thinking they can't do it – that it's impossible. If they take smoking breaks with other smokers or live in a house with smokers, it can be more difficult to quit. Once they realize they can just take it one step at a time and slowly make changes up to that quit date, it's more manageable.

Q: What are some of the tips you recommend to your clients in overcoming their obstacles?

A: One thing that I will have a lot of my clients do is make a list of things they could be doing instead of smoking and then if they're ever in a challenging position, they can look down and see 10 things they can be doing instead of smoking. One thing that we all use with our clients is deep breathing. They're so used to breathing in the cigarettes but if they just take in a few deep breathes instead, it can really help them reach their end goal.

Q: What is your favorite part about being a coach?

A: The variety. Each coaching session is a little different. We're working with each participant on different goals. Some that call in and enroll are trying to quit smoking and another client we're working with is trying to lose weight or work on their cholesterol. I really enjoy that each person calling in has a different story or different goals they are working on.

Q: What have you found to be essential in your coaching sessions?

A: Each person that comes to us wants to make changes, but they have to want to make changes for themselves and they need to be motivated. They have to work at it and realize there's going to be ups and downs, but to keep their eye on the goal. It's definitely strength based. We encourage the participant to reach inside themselves to make it happen and to set those goals.

Q: What have you found most memorable in that last eight years as a Health Coach?

A: A woman I coached for quitting smoking told me she was going through treatment for cancer. Then a year later she called me to let me know that she was in remission for her cancer and smoke free. She made several changes in her lifestyle to become healthier. It was so rewarding to hear her story because she gave up the smoking, plus started eating healthier and was exercising to take better care of herself, instead of just giving up with the cancer and telling herself it was over.

Q: How does it make you feel to know that you are helping people better their lives?

A: I find it to be very rewarding, even to see someone who doesn't quit smoking completely but seeing them take one step forward. It's gratifying just to see them have the moment when they realize that they can do it.